most of this OP has nothing to do with porn.
I had a YouTube channel I wouldn't trade for the world deleted and someone went topless and a couple got naked on top of a vandalized car as protesters shouted "justice for George Floyd! Fuck police! Arrest the cops"! I even caught someone's shirt catch on fire.
I carried my picture of Malcolm X with a note, " George Floyd shall never die!"
This is because people recognise me as I have a reputation for promoting shit no one understands at the Capitol building, and I got jumped and phone stolen before. I was going where the police were scared to go , with my phone, so the pic of Malcolm X was because I pray to him, admire him for having the balls to go to war with his white nemesis as well as point out the errors of his hommies and the corruption among black-Muslim leaders. I also admire his fidelity to his wife, when he could have had many mistresses like Elijah Muhammed whom he criticized for adultery and getting girls pregnant out of wedlock.
So, I figure I'd promote an actual hero. George Floyd is cool, but isn't exactly someone to look up to and canonize like they do here in the Twin Cities. We all make mistakes, but he was a criminal repeatedly incarcerated, and one of his offenses was he assaulted a woman and stole from her. God rest his soul, I don't wanna talk shit about a guy who is no longer with us, but blacks need real heroes besides Tupac and gun totin gangstas and rappers, like the Tuskeegee airforce pilots who did better at shooting down German planes than the white pilots did. there are some actual heroes.
A dewd began ranting to me about slavery and pulled a knife on me where all the tweakers set up their tents because he knew I promote some stuff he is told means something it doesn't mean, but it wasn't scary, because you can tell when a guy really is considering stabbing you and when they are just trying to scare.
Minnneapolis police can be major assholes, as I had them pop my arm out of socket and fracture it while I was high on poor man's PCP and I reached in my pocket shouting, "I have a gun. I have Covid 19." I was trying to get shot, and were I black, I probably would have.
Instead I got tazed and didn't know my arm was broken or out of socket till they told me to place both hands on the wall. One of my arms simply wouldn't lift and they refused to give me medical attention and told me to shut up.
I had to wait till I got released from jail, which very oddly was that day, because they were so full and thought I had covid. Still, once the dude is down, no sense tearing their arm out of socket.
but I deserved consequences for such stupidity. I was hoping to get shot because I've always wondered what it feels like , and on any drug in that family, pain becomes irrelevant.
I feel bad for the people whose stores got vandalized and who lost their lives, but I had never been so happy because of the adrenaline rush and chaos, but also, finally there was something actually worth filming on youtube because worldwide attention was on the Twin Cities where I live and tank looking vehicles were driving down the streets, at the Capitol building a fence was set up surrounded by soldiers, and I even got in front of armed personnel kneeling and pointing his gun towards the camera.
A lot of those soldiers were girls carrying what looked like M-16's and looking like they hadnt graduated high school. Lol!
I went into a vandalized dominoes store where the manager sits and stole a bunch of shit and made a film of my "new desk job". Target was torched and windows busted out but boarded up by the time I got there.
The stores I did manage to enter had merchandise, but it wasn't really worth taking and I was on camera with a face that's easy to recognize.
There were fire-extinguishers everywhere, in certain areas, shops that had black fists making power signs with the words "Black owned", so no body would vandalize them.
Here's some footage that captures what life here was like for police.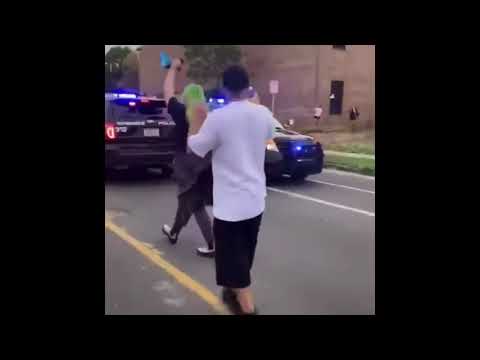 I had a film of the police with shields and biliclubs and other riot gear as well.
But then some couple gets naked and I upload it from behind. My youtube channel was destroyed shortly after..
How is someone's ass pornographic?
Youtube is a shit crock. I can't simply mention that Muhammad was a pedophile or quote where the Koran is violent and contains psychopathic tortures without the video being deleted.
It's okay to have jailbait as young as the Prophet Muhammad's prepubescent wife Aisha when they got married, openly post galleries of thousands of asses provided that they have a thong wedged between their butt cheeks,
20200718_122014.jpg
but I make a video of adults showing their craggy buttocks in public and lose my channel.
That's bullshit!
Churches have paintings of nudity all over on the inside of certain chapels, cathedrals, and Basilicas. Nude sculptures of various michael angelo chisels like the naked king David are in Churches.
When I was in the first grade we had national geographics that showed topless women and even fully nude children on occassion.
How can any of that even qualify as pornography?